Single Source Vendor Program
Let Compex relieve the burden of coordinating your discovery needs; preparation and service of deposition notices, retrieval of medical records, completion of medical record summarization, and deposition administration. Through our Single Source Vendor Program, Compex will handle the entire process alleviating the client's need to conduct status checks, to coordinate deliveries with multiple vendors, and to confirm receipt from multiple vendors.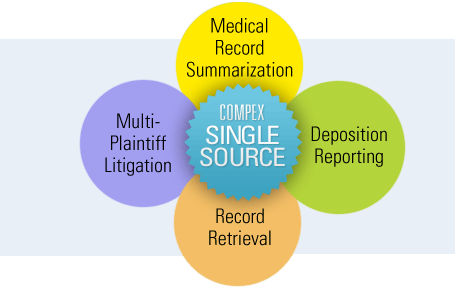 MULTI VENDOR PROCESS

COMPEX SINGLE SOURCE VENDOR PROGRAM

UNIQUENESS
Standardized Products/Outputs - We ensure consistent products

Product Pre-defined Preferences - Client specifies delivery, electronic interfaces and reporting preferences

Administrative Savings - Consolidated billing and tailored management reports

Vendor Management Relief - Deal with one vendor and let us coordinate

Cost Containment - Bundled service discounts and expertise for "all work"